10 Affordable 3-Row SUVs In The Market That Attract Our Eye Sight
If you have a large family, you'll want a vehicle that can provide you with as much space as possible, and none do it better than three row SUVs. In this article we've created a list of 10 of the most affordable three row SUVs to add to your purchasing list for the new year, along with an overview of everything you need to know about them.
10 Affordable 3-Row SUVs In The Market :
#1 Volkswagen Atlas

#2 Mazda CX-9

# 3 Ford Explorer

# 4 Kia telluride

# 5 Honda Pilot

# 6 Toyota Highlander

#7 Mitsubishi Outlander

#8 Hyundai Palisade

#9 Buick Enclave

#10 Chevrolet Traverse
Affordable 3-Row SUVs #1 Volkswagen Atlas
Now here's one for Volkswagen Atlas owners who don't want large SUVs but yet want adequate room in the third row for people. The 2023 Volkswagen Atlas's spacious third row is one of its strongest selling features, but there's more to it.
The Atlas also has two powertrain choices. If you want the greatest power from this SUV, opt for the V6 engine, which produces 276 horsepower. However, if you don't mind a little less power for a lesser price, you may simply choose for the turbocharged four-cylinder engine, which still produces a respectable 235 horsepower. The pricing is similarly reasonable, with the atlas starting around $37,000 and rising to $54,000.
Affordable 3-Row SUVs #2 Mazda CX-9
The 2023 Mazda CX-9 is an SUV built for a very particular target customer. For drivers who are moving highly responsive vehicles and now require a little more space, the CX-9 will be an excellent partner. The CX-9 is well-known for being a very driver-centric SUV that strives to make the driving experience as crisp and pleasurable as possible. notably in comparison to other SUVs in its class. Mazda already has a reputation for its Driving Experience, which, despite being a larger vehicle, is successfully executed on the CX-9.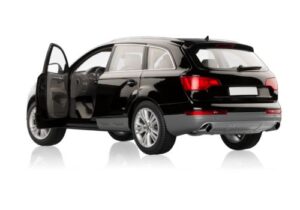 Instead of the usual V6, this one receives a turbocharged four-cylinder engine that sounds as aggressive as it moves, reaching 60 miles per hour in around 7 seconds. With the majority of the focus on how this SUV drives, it does lose some room. The Mazda CX-9 does not have as much cargo room as the majority of the other vehicles on the list. The Mazda CX-9 is offered in five model levels, with prices ranging from $40,000 to $50,000.
Affordable 3-Row SUVs # 3 Ford Explorer
The Ford Explorer is another another SUV that need no introduction. Aside from the fact that it starts at a lower price than the other three row SUVs on the list, there is the problem of capacity. The Explorer isn't quite as large as some of the other SUVs on our list today, so it doesn't have as much room.
As with the CX-9 and Outlander, adults may have difficulty fitting in the Ford Explorer's third row. In terms of performance, most consumers will appreciate how many alternatives the Explorer provides. If you choose the highest model, you will receive a twin turbo V6 engine that produces 400 horsepower. The Ford Explorer handles and accelerates like a beast, as one would expect. The lowest trim level starts about $37,000 and goes all the way up to $55,000 in price.
Affordable 3-Row SUVs # 4 Kia telluride
The Telluride is another another popular three-row SUV model from Kia that continues to entice buyers with how much value it provides for its pricing. If you're looking for an SUV that feels like it's worth more than you're paying for, the Telluride is a strong candidate. The 2023 Telluride offers a smooth driving, a suitably quiet and spacious cabin, and improved handling, among other benefits.
The 2023 Telluride is driven by a V6 engine that produces 291 horsepower, which is quite an impressive fit for a vehicle in this price category. Inside, it is incredibly large and cleverly constructed to make you as comfortable as possible throughout long rides. The 2023 Kia Telluride also features a wide selection of options ranging from as little as $37,000 to as much as $52,000, with some of the better items falling inside that price range.
Affordable 3-Row SUVs # 5 Honda Pilot
The Honda Pilot is without a doubt one of the most popular SUVs in its category, and for good reason. The Pilot has always delivered fantastic amenities to drivers looking for a three-row SUV, and for the 2023 model, Honda is taking it up a level. Inside and exterior, the 2023 pilot is receiving a total design update, from the design being reviewed to seem more tough and off-road to some great performance upgrades.
The SUV will be driven by a 3.5-liter V6 engine producing 285 horsepower, mated to a 10-speed automatic gearbox, and will be available with front-wheel or all-wheel drive. Some 2023 Pilot variations have a very spectacular cabin experience, like as a panoramic sunroof and a 12-speaker Bose system on the touring and Elite models. All of this brilliance is projected to cost between forty thousand and fifty two thousand dollars.
Affordable 3-Row SUVs # 6 Toyota Highlander
Of all the SUVs on our list today, this is the one with the most trim options for drivers to select from, making it a capable rival. Aside from the choices, this is a highly capable three-row SUV with a slew of standard amenities and a number of user-specific features that will help you determine which trim is ideal for you.
On paper, you get a 2.4 liter four-cylinder engine that makes 265 horsepower. The 2023 Toyota Highlander handles like a huge vehicle that will be stable enough to accommodate your large family. The price of this SUV ranges from thirty-eight thousand dollars at the low end to fifty-two thousand dollars at the high end.
Best New SUVs Car Recommended For Senior Driver
Affordable 3-Row SUVs #7 Mitsubishi Outlander
The 2023 Mitsubishi Mitsubishi Outlander Outlander is the least expensive SUV on our list today. With its 2.5 liter four-cylinder engine producing 181 horsepower, the Outlander's performance and driving experience are adequate. Once you get into the automobile, you may feel as though you didn't pay enough for the experience.
The materials in the Outlander's cabin are brilliantly crafted with quality materials, but the biggest caveat with this SUV is its interior. If you will be carrying a lot of adults, you may have a challenge here because it has very little leg room. It may not be the best for long trips unless you are carrying smaller children. The 2023 Outlander has a broad range of variation possibilities, whether you want it purely gas or hybrid, and the price ranges from roughly thirty thousand dollars to as high as fifty two thousand dollars.
Affordable 3-Row SUVs #8 Hyundai Palisade
Let us now return to a more value-oriented three-row SUV, the Hyundai Palisade, for drivers who had concerns with the design language of the previous Palisades. Hyundai has redesigned the new Palisade's design. The company has gone for a more raw and squared design, which is rather appealing.
The Palisade is powered by a 3.8-liter V6 engine that produces 291 horsepower. Users who have tested the 2023 Palisade have stated that the acceleration is excellent for a car of this size, so if you want a car that can provide you all the room you need while remaining sensitive to your foot on the pedal, the Palisade should be a decent alternative. The price of the 2023 Hyundai Palisade starts from $37,000 and rises through several levels to $51,500.
Affordable 3-Row SUVs #9 Buick Enclave
This is an SUV that veers slightly toward something a bit more upmarket for SUV drivers. It does not have the feel or expense of any of the high-end brands and models in this category.
The Enclave provides a highly comfortable driving experience, thanks to its 3.6 Liter V6 engine, which delivers 310 horsepower. What most drivers will like about the Enclave is how it performs what it does without disrupting the luxury interior.
Aside from how it feels to drive, Buick also considered how it feels within the enclave. There is just enough space inside the SUV for its size, and there are a slew of comfort-focused amenities that you will like trying out. The 2023 Enclave begins about $47,000 and may go up to $59,000 depending on the trim level.
Affordable 3-Row SUVs #10 Chevrolet Traverse
The 2023 Chevrolet Traverse is the final but certainly not least on our list of three row SUVs. The Traverse is another excellent alternative for drivers who do not want to drive a large SUV but yet want adequate interior room for people and baggage. The Traverse is a spacious three-row SUV that not only looks excellent but also drives well.
The Traverse also provides fast acceleration from its 310 horsepower V6 engine, and the frosting on the cake is that the Traverse delivers all of this while keeping the cabin calm and tranquil. The base trim of the Traverse starts about thirty-six thousand dollars, while the top of the tower starts around fifty-four thousand dollars.
1. What are the most affordable 3-row SUVs in the market right now?
The most affordable 3-row SUVs in the market right now are:
2023 Volkswagen Tiguan: Starting at $26,950

2023 Mitsubishi Outlander: Starting at $27,595

2023 Kia Sorento: Starting at $29,990

2023 Subaru Ascent: Starting at $33,895

2023 Chevrolet Traverse: Starting at $34,500
2. What are the pros of each affordable 3-row SUV?
There are several affordable 3-row SUVs on the market, each with their own set of pros. Here are some of the pros of popular models:
Honda Pilot: With a roomy interior, a smooth ride, and decent fuel efficiency for its size, the Honda Pilot is a dependable and useful SUV. It also includes a number of cutting-edge safety features and a high resale value.

Toyota Highlander: The Toyota Highlander is a dependable SUV with a smooth ride and a roomy cabin that has been thoughtfully designed. It has a track record for longevity and a robust set of basic safety measures.

Kia Telluride: Despite being a new car on the market, the Kia Telluride has rapidly become well-liked because of its attractive appearance, spacious interior, and extensive list of standard amenities. A excellent bargain overall, it also offers a comfortable ride and outstanding performance.

Hyundai Palisade: The Hyundai Palisade is very similar to the Kia Telluride in terms of design, performance, and features, but it offers a few extra amenities such as a reclining second-row seat and a digital gauge cluster.

Subaru Ascent: The Subaru Ascent stands out for its standard all-wheel drive, which makes it a good choice for drivers who live in areas with inclement weather. It also has a comfortable, spacious interior and comes with a suite of advanced safety features.
Overall, the benefits of each of these reasonably priced 3-row SUVs depend on your needs and preferences. The Honda Pilot and Toyota Highlander are fantastic options if you seek dependability, utility, and high resale value. The Kia Telluride and Hyundai Palisade are two options to take into consideration if you're searching for an attractive SUV with lots of standard amenities at a reasonable price. Additionally, if you reside in a region with unpredictable weather, the Subaru Ascent's standard all-wheel drive can be a major selling factor.
3. What are the features that are most important to me when choosing an affordable 3-row SUV?
The features that are most important to you when choosing an affordable 3-row SUV will vary depending on your individual needs and preferences. However, some of the most important features to consider include:
Price

Interior space

Fuel economy

Reliability

Safety features

Technology features
4. How can I find the best deal on an affordable 3-row SUV?
There are a few things you can do to find the best deal on an affordable 3-row SUV:
Do your research: Compare prices from different dealerships and online.

Be prepared to negotiate: Don't be afraid to negotiate with the dealership to get the best price.

Consider buying used: You can often find great deals on used 3-row SUVs.

Look for incentives: Many dealerships offer incentives, such as rebates or discounts, on new and used cars.
5. What are some things I should keep in mind when buying an affordable 3-row SUV?
There are a few things you should keep in mind when buying an affordable 3-row SUV:

Consider your needs: Make sure the SUV you choose has enough space for your family and cargo.

Think about your budget: Set a budget before you start shopping so you don't overspend.

Do your research: Read reviews and compare prices to find the best deal.




Be prepared to negotiate: Don't be afraid to negotiate with the dealership to get the best price.