Top 10 Trustworthy 2022 SUVs Car You Can Buy Under $30,000
Recently, there has been a huge increase in the demand for compact SUVs, and nearly every large and small manufacturers is showcasing new SUV models or redesigning existing ones to make them even more accessible and effective than before.
Yes, we just want to show you The Top 10 Trustworthy 2022 SUVs Car under $30,000 in terms of value. We want to avoid all the excessively overpriced SUVs.
Below Are The List of Top 10 Trustworthy 2022 SUVs Car You Can Buy Under $30,000
2022 Hyundai Tucson: Price Range 26,175$
The Hyundai Tucson for 2022 has a bold new design that seems set to shake up the compact SUV industry. The base trim level Tucson is powered by a 2.5 liter four-cylinder gasoline engine shared with the sonata sedan, but a hybrid and a plug-in hybrid will also be available.
For 2022 the Tucson is completely revamped from top to bottom using the company's new design language for a striking appearance. A 187 horsepower 2.5 liter four-cylinder engine will come standard along with an eight-speed automatic gearbox and front or all-wheel drive.
The combination of plug-in hybrid variants will be driven by a turbocharged 1.6 liter four-cylinder engine with a combined output of 227 horsepower in the former and 261 horsepower in the ladder. Both come with all-wheel drive and a six-speed automated gearbox. According to the EPA the plug-in hybrid variant has a 13.8 kilowatt-hour battery pack. It can provide up to 33 miles of electric only driving. when connected to a level 2 charging station the battery can be fully charged in around 2 hours.
With a digital gauge display, a push button shifter, and a touch sensitive climate control and entertainment control panel, the new Tucson's dashboard is simple yet modern. The price of the Hyundai Tucson 2022 starts at 26,175 and offers the best value in the market.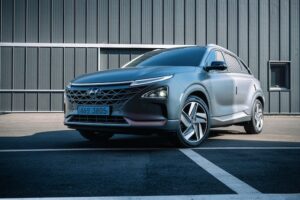 2022 Volkswagen Taos : Price Range 23,295$
The all-new 2022 Taos truly checks all the boxes for a compact SUV. It's a compact SUV that's versatile has a bold Volkswagen styling enough cargo space for an average American family needs and a turbocharged engine under the hood. The Volkswagen Taos is powered by a new 1.5 liter supercharged and delivers a very honest 158 horsepower and 184 pound-feet of torque.
The front-wheel drive tows is probably the most fuel-efficient option of all with an EPA combined rating of 28 miles per gallon in the city versus 36 miles per gallon on the highway. The more advanced suspension of the all-wheel drive Volkswagen Taos, while the vehicle's weight increase of 255 pounds, boosts driver confidence by giving better body control.
The 2022 Volkswagen tiles come standard with a fully digital instrument cluster, but the special edition limited model gets a larger and fully configurable 10.25-inch display with three views. You'll also appreciate its full-screen navigation, which transforms the entire instrument cluster into a useful and eye-catching map.
The Volkswagen Taos Special Edition Limited also offers the IQ drive safety package, which includes lane keeping assistance, adaptive cruise control, forward collision warning, and automated emergency braking. Being a little brother of the more popular Tiguan the new Taos is surprisingly roomy and copies user-friendly interface from its bigger brother SUVs. The base price for the 2022 Volkswagen Taos is 23,295$.
ALSO READ : The Best 7 Newest Electric Car China Offers
2022 Mitsubishi Eclipse Cross : Price Range Starts 29,635$
The all-new 2022 eclipse cross stands out in the compact SUV segment for its sporty looks. The odd split rear window design of previous model years has been replaced by a sleeker looking rear liftgate. The cabin of the new eclipse cross has also been updated with a new 8-inch infotainment touch screen that has been relocated closer to the driver for easier use while driving.
The 2022 eclipse cross is powered by the same 1.5 liter turbocharged four-cylinder motor as the previous generation model. It has 152 horsepower and 184 pound-feet of torque. The fuel economy figures are pretty average for its class according to the EPA the new eclipse cross is supposed to perform better in the city driving than many of its competitors.
Hence consider your driving habits when making the comparison with EPA ratings of 26 miles per gallon city, 29 miles per gallon highway and 27 miles combined the base trim level front wheel driving model is the most fuel efficient. The 2022 Mitsubishi eclipse cross has a starting price of 23,695$.
2022 KIA Sportage: Price Range starts at 24,090$
For the 2022 year model KIA has made minor changes replacing the S trim level with the previously available nightfall edition trim. The value addition package which includes features that were previously reserved for finer trims is now included in the base LX model. Optional features include dark 18-inch alloy wheels heated front seats passive keyless entry and suggested to play.
Every KIA Sportage EX now has a panoramic sunroof while the EX technology package and SX turbo versions both get 10 years of free map updates. Also a new software and capabilities for the GPS devices. A 1.6 liter turbocharged gas engine with 177 horsepower and 265 newton meters that's 195 pound-feet of torque is available. It may be driven with a six-speed manual or even a 7-speed dual-clutch automatic transmission.
All of the versions provide excellent mileage, the 2.4 liter engine variants LX nightfall edition and EX of the 2022 KIA Sportage LX gives a city fuel consumption of 23 miles per gallon with front wheel versions. The engine achieves a highway fuel economy of 30 miles per gallon and a mixed mileage of 26 miles per gallon.
The Sportage's cabin is a good mix of high quality materials and useful amenities. It is large enough for people but not so much for cargo. The 2022 Kia Sportage SUV starts at $24,990, making it one of the most affordable compact SUVs on the market.
2022 KIA Selot's: Price Range starts at 22,590$
The new 2022 model KIA Selot's combines style and utility in a size that's just perfect for many people nowadays. For its freshman year, the KIA Selot receives a slew of new driver assistance systems, including automated emergency braking, lane keeping, and automatic high beam headlamps. It's also one of five SUVs in the KIA lineup that are larger in size than the smaller foot.
Except for the IX which receives automatic temperature control and remote start all KIA Selot's trim levels now come with a larger 10.3 inch touchscreen. The top spec SX trim level adds a flat bottomed steering wheel this year's nightfall edition adds unique black painted 18-inch aluminum wheels and zonked exterior trim to the selection. In the Selto's KIA offers two alternative 4-cylinder engines a 2-liter with 146 horsepower and a turbocharged 1.6 liter with 175 horsepower.
Every 2022 KIA Selto's now includes automatic emergency braking, lane centering with lane departure warning, and automatic high beams as standard equipment. Blind spot monitoring and rear cross traffic alert are also standard standard on the KIA Selto's ex nightfall and SX models  . The top-of-the-line Selto's SX adds a well-tuned adaptive cruise control system to the KIA crossover's set of active safety features. The price of the 2022 KIA Selto's starts at 22,590$.
2022 Subaru Forester: Price Range Starts 26,320$
Subaru has updated the Forester SUV for 2022 with new wheel styles a redesigned grille and blockier looking front headlamps. The 2.5 liter flat four-cylinder engine in the 2022 Subaru Forester produces 182 horsepower and has a towing capacity of 1500 pounds.
Subaru's characteristic, all-wheel drive system is routed through a continuously variable automatic transmission cvt. Moreover a new wilderness trim level has been added to the lineup which like the outback wilderness provides more ground clearance and a rough look. On the inside all but the basic trims get new optional gesture controls for the climate control system and panoramic sunroof as standard equipment.
Upgraded camera sensors have been added to Subaru's eyesight, suite of driver assistance features which Subaru claims broadens. The system's field of view improves its operational range and adds a new automatic emergency steering system to the mix.
The Forester will likely please buyers seeking efficiency with EPA fuel economy figures that equal much of the compact crossover sector 26 miles per gallon city, 33 miles per gallon highway. The price of the 2022 Subaru forester starts at 26,320$.
2022 Toyota Corolla Cross : Price Range 22,195$
The 2022 Toyota Corolla Cross appears set to take on many SUVs in the tough American crossover sales battle, with its charming appearance and available hybrid powertrain. The design of this new corolla cross takes corolla to a whole new level.
Modern lines, flared fenders, and a smooth silhouette give it a sophisticated yet powerful look that's sure to grab everyone's attention. Toyota corolla cross versions in 2022 will be powered by a 2-4 liter 4-cylinder engine producing 169 horsepower and a continuously variable automatic transmission. Front-wheel drive is standard, but all-wheel drive is available as an option.
The Toyota corolla crosses engine isn't particularly exciting but it should provide acceptable performance and fuel efficiency. Up to an EPA estimated 32 miles per gallon combined helps keep your momentum going.
The available 7-inch multi-information display lets you see corolla crosses vitals at a glance. Use the steering wheel mounted controls to keep track of real-time driving data turn-by-turn directions, safety information and alerts all while keeping both hands on the wheel. The price of the 2022 Toyota corolla cross is 22,195$.
ALSO READ : The Latest Compact SUVs Car For 2023
2022 Ford Escape: Price Range 26,500$
The Ford has expanded its SUV lineup for 2022 which means now ford escape must compete not only with its rivals but also with reborn Barranco. For the 2022 model designers turned to some of the most high profile sports cars in the ford showroom. Escape stands lower, wider, and longer than the previous generation.
The Titanium Elite package, SEL stealth AWD package, and SE sport appearance package are examples of appearance packages. Based on customer feedback, the interiors of the Titanium Elite and SEL stealth have been improved with new materials, colors, and patterns, including active xtm seating material. The SEL stealth has Miko suede inserts, while the Titanium Elite has a leather wrapped steering wheel and leather trim with mini perforation.
On escape versions with 2-liter engines, as well as on the SE, SEL, and Titanium hybrid and plug-in hybrid vehicles, a class 2 trailer two package is an option. On SEL and higher series levels, a secure code keyless entry keypad is a standard feature and is part of the convenience package.
The base 1.5 liter FWD fuel economy is 28 34 and 30 miles per gallon city highway and combined. New available exterior colors are atlas blue metallic flight blue metallic and iced blue. The starting price for the updated 2022 ford escape is 26,500$.
2022 Toyota Rav4 : Price Range Starts at 27,000$
The new Toyota Rav4 is one of the finest SUVs on the market and if you're in the market for a midsize SUV the rav4 is almost certainly on top of your short list. A spacious interior a comfortable ride and simple controls are among the highlights. Toyota Rav4 is the type of SUV that you could just get into and drive without thinking about anything further.
Toyota Rav4 is available in a number of trim levels, so there's a good chance you'll find the right one for you. There's a low-cost base model,a high-end model with all the bells and whistles, and everything in between. With the back seats up, the cargo hold on the Toyota RAV4 is practically the largest in its class. In addition, they take up 37.5 cubic feet of space feet of space when open and 69.8 cubic feet when folded. The Toyota RAV4 can carry up to 3500 pounds, which is more than you'd expect from such a small CUV
According to the EPA depending on the powertrain and trim level the Toyota Rav4 will earn 27 to 30 miles per gallon in combined city highway driving. The 2022 Toyota rav4 has only one powertrain option, a strong 2.5 liter 4-cylinder engine with 203 horsepower.
Coming to total control this is combined with an 8-speed automatic transmission you also have the option of choosing between front wheel and all-wheel drive. Toyota rav4 prices start at roughly twenty seven thousand dollars but due to high demand and low supply you need to be ready to pay much more.
2022 Chevrolet Trailblazer : Price Range Starts 21,600$
Chevy has so many SUVs in its lineup but the 2022 Chevy trailblazer does stand out from the crowd, because of its charming stylish design and clever value proposition. Chevy makes very few tweaks to the trailblazer lineup for 2022. The LT trim now has a heated steering wheel as an option while, the AC TI-v and RS trims now have it as a standard.
Crimson Blue glow, Vivid orange and Mahogany red are now among the metallic paint hues available. The trailblazer similar to the encore GX comes with two turbocharged 3-cylinder engines a 1.2 liter and a 1.3 liter. The former develops 137 horsepower while the ladder produces 155. The 1.2 liter engine has only front-wheel drive and a continuously variable automatic gearbox cvt. But the 1.3 liter has all-wheel drive as an option.
When you choose all-wheel drive you also get a smooth shifting 9-speed automatic transmission instead of the usual CVT. As per the EPZ the most fuel-efficient trailblazer is the wheel drive model with the bigger 1.3 liter three cylinder engine; which gets 29 miles per gallon city and 33 miles per gallon highway. If you upgrade to all-wheel drive those figures drop to 26 and 30 respectively.
Every trailblazer comes standard with a suite of basic driver assistance features with more advanced features like adaptive cruise control available as an option. The price of a Chevrolet trailblazer starts at 21,600$.