Welcome to International Electric Car. In this article I wish to share Overview of Volvo C40 Electric Car. In many ways, the Volvo C40 recharge symbolizes the future of Volvo cars. It is the first Volvo model developed exclusively in electric mode, and it will be available online with the easy care package. Volvo automobiles enters a new category with its SUV qualities and benefits matched with a lower profile, and it does so with cutting-edge design and features not previously seen on Volvo cars. The Volvo C40 Electric is an all-electric crossover SUV produced by Volvo.
Some key features of the Volvo C40 Electric include:
Electric powertrain: The Volvo C40 Electric car is powered by a 78 kWh lithium-ion battery pack that provides a range of up to 208 miles on a single charge.
Quick charging: The Volvo C40 Electric car is equipped with fast-charging capabilities, allowing you to charge the battery from 0% to 80% in as little as 40 minutes using a 150 kW DC fast charger.
Stylish design: The Volvo C40 Electric has a sleek and modern design, with a low, aerodynamic profile and a spacious interior.
Advanced technology: The Volvo C40 Electric car comes equipped with advanced tech features such as a touchscreen infotainment system with Apple CarPlay and Android Auto, a panoramic sunroof, and a premium sound system.
Safety features: The Volvo C40 Electric car is equipped with a variety of advanced safety features including automatic emergency braking, lane keep assist, and adaptive cruise control.
Excellent warranty: The Volvo C40 Electric car comes with a comprehensive warranty package, including an 8-year/100,000-mile battery warranty and a 4-year/50,000-mile basic warranty.
Is the C40 an Electric Model of the XC40 ?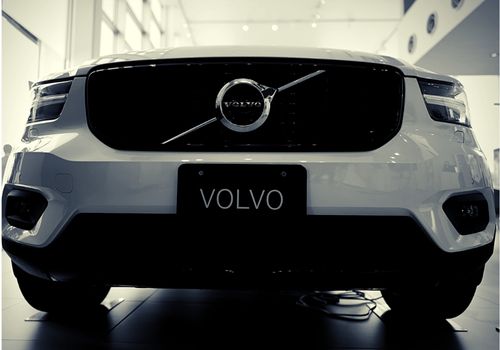 To generate the more attractive 2022 C40 recharge, the roof of Volvo's electric XC40 recharge SUV has been shaved. It shares many similarities with the XC40 recharge, including an all-electric powertrain with two electric motors producing a combined output of 402 horsepower and standard all-wheel drive. The inside is similar to that of the XC40, with creative storage possibilities.
According to reports, a high-tech Google Android-based entertainment system in a higher seating position and a large battery pack with 75 kilowatt hours of usable energy storage can provide a 225 mile driving range per charge. The C40 recharge lacks leather yet manages to fit into the luxury small EV SUV category.
Motor Power 
Two electric motors generate 402 horsepower and 487 pound-feet of torque, which is sent to all four wheels via a single-speed transmission. While acceleration off the line isn't quite up to Tesla's standards, it's more than enough to get you moving. It's certainly competent for the work at hand on the highway and in traffic. Getting up to speed is a wonderful experience, as does overtaking. When you stamp on the pedal from a stop, the steering wheel wriggles as the tires combat the torque in the C40.
It's not much different than driving at a slower speed because the torque is always available, and it can become addictive if you allow it. According to Volvo, the drivetrain is limited to 112 miles per hour for safety reasons. It is worth noting, however, that it is somewhat subjective, and a modern cars with current stability control and all other equipment may comfortably drive at high speeds on a suitable road.
Driving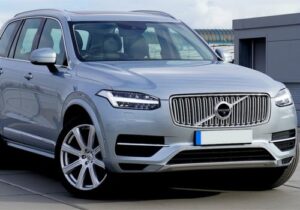 Having said that, very few highways allow even 100 miles per hour by law, so impressions of handling and driving are moot. A qualified driving instructor will teach students how to drive calmly and professionally, and this is a perfect car for that. Volvo cars are known for inspiring calm and efficient driving, and the C40 is one of the best with a quiet drivetrain and excellent noise vibration and harshness control.
However, like with most large vehicles, this C40 with battery weighs 4817 pounds, thus the suspension must be timidly adjusted to balance the weight. On a rough road, the ride is still reasonable and not stiff like a sports car, but it isn't extremely smooth either, while the low slung weight helps keep things grounded and ensures that tire contact is maximized for all four wheels along a curve.
The C40 and its power can be entertaining with the regenerative braking system properly calibrated and driving with one pedal. The C40 shines the brightest especially in town it's a breeze to get used to thanks to Volvo's great implementation of the one pedal system and the automated brakes.
When going off throttle it makes stop start traffic easier to manage while also recharging the battery with the kinetic energy of electronic braking because the C40 does not have a start/stop button, you must unlock the vehicle, climb inside, place your foot on the brake, and then select drive to proceed. The C40 shuts off when you select park, leave the car and lock the door.
ALSO READ : Go Green With The Volvo C40 Electric Car
Design
In terms of design, the C40 recharge is similar to the XC40, although it has a coupe-style roof instead of the XC40s. C40s come standard with 20-inch five-spoke graphite diamond-cut alloy wheels, high-gloss black window trim and mirror caps, and a body-colored covered grille that distinguishes it as a member of Volvo's team.
Other standard features include electric tinted rear windows, a huge fixed panoramic sunroof, and pixel led lighting that enhances the trademark Thor's hammer headlight design. The length of the Volvo c40 recharge is 174.4 inches, and the wheelbase is 106.4 inches. It is 80.1 inches wide by 62.3 inches tall with mirrors.
Interior
The interior of the Volvo C40 recharge is the first in the product line to be free of leather, which may bring up images of rough plastics and dirty materials, but this is not the case. It is made from a partially recycled microfiber and a synthetic material that looks and feels high-end. The xc40's elevated seating posture, as well as many of its features, such as the outstanding entertainment system, were carried over.
The C40, on the other hand, features a topography-inspired décor that is brightened to showcase the design, which pays reference to Scandinavian landscapes. Because the majority of the cabin design is built on natural and light themes, a glass roof serves to bring in both light and elements, providing a spacious and welcoming feeling within.
Interior Design and Seating
The C40 is a five-seater with enough space for a small person in the middle of the back bench seat. The back seat has 36.1 inches of legroom, but the sloping rear roof isn't suited for individuals over six feet tall. Volvo has succeeded not only in terms of interior materials and ergonomics, but also in terms of storage. Because the center console has no gearbox, Volvo has used it for storage and even a trash bin that can be filled.
The core of the C-40 was designed with audio in mind, and an air woofer in the dash eliminates the need for a subwoofer up front, while creative engineering eliminates the need for speakers in the doris bottoms. Volvo, on the other hand, has used the space to construct amazing deep storage pockets.
Recharge
The C40 recharge weighs 4817 pounds depending on the configuration, and the engine shared by the 2022 Volvo C40 and the XC40 recharge is the same two electric motors, one on each axle, fueled by a 78 kilowatt battery, producing a strong output of 402 horsepower. To propel the compact Volvo Ford, all-wheel drive is standard, and this combination is also featured in the polestar 2's duo motor variant.
The specs for the 100 electric 2022 Volvo C40 recharge are usually good, with Volvo claiming a 0 to 60 mile per hour time of 4.7 seconds and a top speed of 112 miles per hour, as with all Volvo vehicles. Because of its pound-feet of torque gearbox and engine, the Volvo C40 recharge has a towing capacity of 2000 pounds. The c40 variation is known as the recharge twin ultimate, which highlights the new trim name while also highlighting the vehicle's all-electric nature.
Mileage
According to the EPA, it gets 948087 mpg on city highway combined cycles and has a range of 226 miles on a single charge. Charging the battery at home via 240 volt outlet with at least 70 amps will take about eight hours, while a DC fast charger will charge the battery from 10 to 80% in about 37 minutes or 50 to 60 miles of range in 10 minutes.
ALSO READ : 5 Method Of Recycling EV Batteries
Features and Statistics
Regardless of the fact that there is only one trim level, Volvo's feature list is pretty wide dual zone climate control and heated steering wheel a 12 inch driver information display. Among the amenities available are a universal garage door opener and an auto dimming rearview mirror. All passengers have heated seats as standard, with power adjustments and memory settings for the driver in the front.
Finally, a wireless smartphone charger is easily located forward of the shifter. Driver aids include adaptive cruise control, pilot assist, blind spot monitoring with cross traffic alert and surround vision camera, front rear and side park assist, and lane keeping assist. Overtaking lanes prevention and traffic sign recognition complete the picture, but there's not much else on the choices list outside some exterior bits and bobs.
Volvo has committed to include Google Assistant in the c40 infotainment system, which, like any other Volvo, is a wonderful implementation. The 9-inch portrait-style touchscreen features several typical controls, but Google Assistant allows the driver or passenger to use their voice to operate non-essential services like as heating, air conditioning, navigation, phone calls, and texting.
Google's famous speaker recognition will also answer basic questions, and future improvements will enhance it to the point where you can regulate the inside temperature. For the time being, the feature is exclusively available in the Volvo Cars app and cannot be accessed from any Google Voice-enabled device in the house.
Full Specifications Of Volvo XC40 Recharge :
Engine And Transmission : –
Motor Power :  402.41bhp

Battery Capacity : 78Kwh

Gear Box : Single Speed Transmission

Max Torque : 660Nm

Max Power : 402.30bhp

Drive Type : AWD

Range : 418

Emission Norm Compliance : ZEV

Transmission : Automatic
Interior Dimensions : –
Seating Capacity : 5

Doors : 5

Boot Space : 414 Liters
Performance and Fuel Economy :-
Fuel Type : Electric(Battery)

Top Speed : 180 Km/h

0-100 kmph : 4.9 Sec
Brakes, Steering, Suspension and Tyers : –
Suspension Front : Sophisticated Suspension

Tyre Size : F 235/50,R 255/45

Alloy Wheel Size : 19

Tyre Type : Tubeless,Radial

Steering Type : Electric

Brakes Rear : Disc

Brakes Front : Disc

Suspension Rear : Sophisticated Suspension
Charging : –
Fast Charging : Not Available in XC40 Recharge