Fastest Electric Cars getting Ready to Come Soon
No one actually expects electric cars to be very fast, but by their very nature, electric cars can accelerate and reach 60 mph considerably more quickly and easily than the majority of gas-powered cars. Here are all the upcoming Fastest Electric Cars that will break the Tesla Model S's record for speed.
7 List of Fastest Electric Cars :
Polestar 5

Genesis Essentia

Tesla Roadster

Lotus Electra

Neo EP9

Faraday Future FF-91

Dodge Challenger E-Muscle
#1 Polestar 5
Polestar's eye-catching precept concept car will now enter into production and the Polestar 5 will go on sale in 2024. According to the company, it is anticipated that the Polestar 5 will be an entirely new car for the company based on the outstanding precept concept.
Similar to the smaller Polestar 2 the Polestar 5 is intended to be powered by two electric motors one mounted up front and the other mounted at the rear.
On a test track, the Polestar 2 was able to reach 60 mph in less than 4.1 seconds and generate a total of 402 horsepower. Better performance is anticipated from the Polestar 5. Tycoon and Model S performance models will have further competition from the Polestar 5, which is probably going to have a higher horsepower rating and be a little bit quicker than the two.
There hasn't been any news on how much the car will cost yet. However electric powertrains and lavish interiors aren't exactly inexpensive these days. These two elements are taken into consideration a starting price in the six-figure area is more than likely.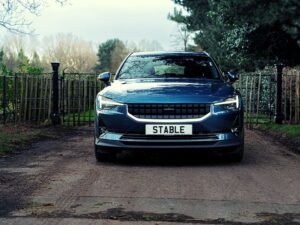 #2 Genesis Essentia
Hyundai's premium division genesis stated in 2018 that they were working on a concept car ahead of the International auto show. The outcome was Essentia. The amazement and atmosphere around the concept car which was unveiled to the public the same year, sparked rumors that the corporation may look to produce a select number of units.
Look Donkerwolk the head of Genesis design and a former Volkswagen designer developed the Essentia concept car which is an all-electric concept vehicle.
Everything about the car was designed to bring the owner closer to the realm of luxury and the elegance of the automobile. Many details remain a mystery due to the fact that it's a concept automobile. Even though Genesis states a theoretical
0 to 60 mph duration of 3 seconds, only the high density batteries and the several electric motors have been mentioned thus far.
Although we won't be surprised if it sells for a price significantly higher than the six figure valuation when it goes on sale, it is likewise difficult to speculatively determine the base price.
ALSO READ THIS : The Best 7 Newest Electric Car 
#3 Tesla Roadster
The first Tesla roadster was essential in establishing the company's reputation, despite the fact that the bulk of its present customers are ignorant of it. The all-new model was supposed to launch in 2021, but since it hasn't yet, we assume it has been delayed several times.
After announcing the vehicle in November 2017, Elon Musk said that it could accelerate from 0 to 60 miles per hour in 1.9 seconds, achieve a top speed of more than 220 miles per hour, and complete the quarter mile in 8.8 seconds.
These estimates indicate that if the roadster's top speed of 60 mph stays unchanged, it will exceed its major rival, the gasoline-powered McLaren 570s, by a full second. A few laps around a racetrack will very certainly drastically limit the 200 kilowatt-hour battery's claimed range of up to 620 miles. The standard roadster will cost more over $200,000, according to Tesla. The price of the founder series is over $250,000.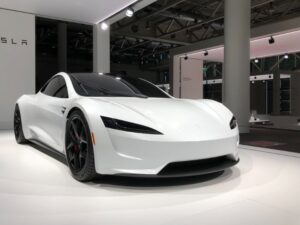 #4 Lotus Electra
There are just a handful of fastest electric cars that may compete with this electric supercar; a 900 horsepower, Lotus Electra will be for sale in a few years, making the 600 horsepower Lotus Electra the entry-level model of the lotus SUV.
The top-tier Lotus Electra will achieve a 60 mph sprint time of under 3 seconds by adding a second 300 horsepower electric motor to the rear axle. We'll have to wait for additional details, but according to Lotus Electra, even the base model will have all-wheel drive and at least 600 horsepower.
The battery pack's precise capacity is being kept under wraps by the corporation, indicating that it would feature more than 100 kilowatt hours of storage. Lotus Electra, promises that it will reach 62 miles per hour in under three seconds; and reach a peak speed of 161 miles per hour.
Lotus Electra claims that the Electra's battery can be recharged to two-thirds in 20 minutes, using a 350 kilowatt fast charger, giving it a range of 373 miles under the European WLTP testing standard, which is equivalent to 315 miles under the EPA's methodology. Electric's pricing hasn't been revealed yet but it's expected to start at roughly $120,000 when it arrives in the United States in 2024.
#5 Neo EP9
The ES6, as opposed to the ES8, ET7, and ES6, was NEO's second automobile. On numerous racetracks around the globe, this electric supercar set new benchmarks for the quickest lap times ever accomplished by an electric vehicle. The EP9 electric prototype nine, however, was never intended to be driven on public roads.
The EP9 is constructed entirely of carbon fiber both inside and out; and the inside is no different from the exterior and chassis. In certain cases, the side batteries of this electric racing vehicle may be swapped out in as little as 8 minutes.
However while the chemistry of ep9's lithium-ion battery is being kept under wraps; it is said to contain a liquid-cooled 100 kilowatt-hour ion pack, that is separate from the Williams f1- supplied stack that powers all formula electric ears. The production of each EP9 costs a total of $1.2 million.
#6 Faraday Future FF-91
The Faraday Future FF-91 is the company's first production vehicle and flagship model. Being fully electric, autonomous ready, and seamlessly connected, it embodies the most recent advancements in mobility in performance intelligence and user experience.  For this reason Faraday gave the FF-91 a futuristic look that makes it stand out from the crowd. The FF-91 specs haven't changed since it was unveiled in 2017.
Three electric motors—two in the back and one up front—produce a combined 1050 horsepower. According to Faraday Future, the crossover, which is 206.9 inches long and hence slightly shorter than a Mercedes-Benz S-class for 2022, would have a 0-60 mph speed in under 2.4 seconds.
With a 130 kilowatt-hour battery pack, Faraday Future asserts that its vehicle has a 378-mile range on the EPA test cycle. If the FF-91 enters production by the end of the year, it is expected to cost six figures, putting it in direct competition with the tesla model X and the lucid motors air. The most expensive FF-91 futurist alliance model will set you back more than $200,000 and be limited to just 300 vehicles.
#7 Dodge Challenger E-Muscle
Expect it to be out by 2024 the all-new dodge challenger E- muscle is a clear sign that electric vehicles are taking over. Electrifying one of the most powerful muscle cars is a major endeavor but it pays off handsomely in terms of performance.
The challenger E-muscle is expected to be built on so Lantus's big electric vehicle chassis, which is supposed to have a range of up to 500 miles. Dodge hasn't officially revealed the E-muscles powertrain, but a teaser video shows the vehicle completing a four-wheel burnout, which strongly suggests an all-wheel drive.
However there's no denying that ratcheting up the range would result from increasing performance to hellcat levels. Although we haven't yet seen the full vehicle, teaser images reveal styling features that unmistakably pay homage to vintage Challenger and Charger models. Additionally, the frat sog logo, which was previously present on Dodge vehicles from the 1960s and 1970s, has been reintroduced.
Dodge has not disclosed any pricing details, so it is merely an estimate that the E-Muscle will cost more than a gasoline-powered challenger. The base model is anticipated to cost roughly $50,000.