The Top 10 Affordable Electric Vehicles You
Can Pre-Order Now
Who would have guessed that affordable electric vehicles would be so popular and in such high demand? While it may be difficult to find electric vehicles these days, here are the greatest future electric vehicles that you can pre-order right now.
Top 11 Affordable Electric Vehicles : 
NEO ET5

Chevrolet Blazer

Toyota BZ4X

GMC Hummer

Fisker Ocean

Polestar 3

Lexus RZ-450E

Tesla Cyber Truck

BMW IX-1

Honda Prologue

Chevrolet Equinox
# 1 NEO ET5 : 
NEO the ET5, a tiny version of the ES6 SUV and ET7 saloon, has been introduced by the Chinese electric car manufacturer. This year's Neo Day event included the ET5, an all-electric hatchback measuring 185 inches in length, which is around the same length as a Tesla Model 3. Customers in China will begin receiving the ET5 in the fall of 2022. The ET5 will be available in three battery capacities: 75, 100, and 150 kilowatt hours.
According to Neo, the largest battery pack, nicknamed the ultra long, has a Chinese testing cycle range of 600 miles. It is the longest in the world, however this would very certainly result in a slightly lower score on the EPA's testing cycle. According to Neo, the et5 can go from zero to 60 miles per hour in 4.3 seconds thanks to its dual motor all-wheel drive technology. The initial price estimate is $52,000, however customers who enroll to Neo's battery service can save up to $10,985.
#2 Chevrolet Blazer :
Customers expecting for an off-road SUV were left completely disappointed when Chevrolet reintroduced the blazer in 2019. Chevrolet is currently planning to reveal the 2024 blazer EV, which will usher the blazer into the electric car market for the first time. Chevrolet has currently given very little information on the blazer EV.
Although it will have a sporty SS variant as one of the first models available, we believe that gm's ultim battery technology will be used in both single and twin motor variants of the Chevrolet Blazer EV when it appears in 2024, as well as when it comes to pricing it goes on sale in late 2023, the blazer Electric Vehicle will be more expensive than the Equinox EV, a time frame for which Chevrolet has not yet disclosed pricing details.
The more performance-oriented SS variant is likely to command a bigger price premium than the other variants. The basic level variant of the Chevrolet Blazer EV is estimated to cost $45,000.
ALSO READ THIS : Electric Vehicle Charging 
#3 Toyota BZ4X :
Toyota's BZ4X crossover vehicle, set to be delivered in 2023, will be a stylistic deviation from the company's gasoline-powered SUVs and will mark the company's return to the electric vehicle category. Toyota forecasts an all-electric car with a range of up to 250 miles on a single charge with the front wheel drive arrangement. A more powerful twin motor in the available all-wheel drive variant should limit the vehicle's range, although Toyota has not provided any data on that model.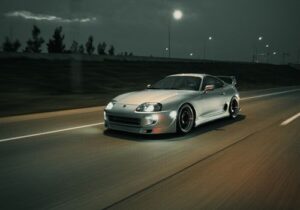 The Toyota's BZ4X will come standard with quick charging, and Toyota claims that the solar panels incorporated into the vehicle will create enough energy to allow the vehicle to travel roughly 1000 miles every year. An all-wheel drive system powered by a single electric motor generates 201 horsepower, but an all-wheel drive system powered by two electric motors generates horsepower.
The total power available equals 215 horsepower Toyota states that an all-wheel drive variation can go from zero to 62 mph in 7.7 seconds. The base price of the BZ4X, according to our estimates, will be in the mid 30,000$ range, with the most luxury models costing more than 40,000$.
# 4 GMC Hummer :
This GMC hummer is a brand-new, all-electric full-size luxury pickup with true truck capabilities such as towing, off-road features and abilities, and a long driving range. The new pickup is a beast, with up to 1000 horsepower from its top engine option, which employs three electric motors and delivers an estimated range of 329 miles per charge and a claimed time of three seconds to 60 miles per hour.
The GMC Hummer affordable Electric Vehicle also has removable roof panels, adjustable air suspension, and a clever four wheel steering function that allows it to crab sideways and drive diagonally, all of which should make it enjoyable to use off road.
So far, the only product that comes close in terms of price and mission is the Rivian R1t, but it's considerably smaller, much more luxury, and lot less in your face. The GMC hummer Electric vehicle will include super cruise, which means true Hands-free driving on mapped highways. The entry-level GMC hummer Electric Vehicle truck starts at $79,995 with two motors and a battery capacity adequate for a 250-mile range.
# 5 Fisker Ocean :
Electric SUVs are getting popular, and Fisker Automotive plans to capitalize on this trend with its new Ocean SUV. According to estimations, the lowest trim model will have a range of 250 miles. It can reach speeds of up to 60 miles per hour in less than four seconds when equipped with an all-wheel drive dual motor system.
According to estimates, the most powerful model will travel 350 kilometers on a single charge. Aside from being a beautiful SUV in the style of the Range Rover Evoque, the Fisker Ocean for 2023 also has a few unique features. A 17.1-inch touchscreen in the center of the dashboard can be rotated both vertically and horizontally, and the back glass can be opened to give the impression of a convertible.
However, only time will tell whether the ocean's range ratings, performance claims, and parlor tricks will be enough to entice Tesla fans to buy the vehicle. According to Fisker's early pricing announcements for the entire ocean series, the basic ocean model will cost roughly $40,000 when built.
# 6 Polestar 3 :
The manufacturer claims that the Polester 3 will be an aerodynamically performing electric SUV that will join the expanding number of new electric vehicles with aspirational aspirations. Polestar 3 is a brand-new electric sport utility vehicle.
It is, as the name suggests, the third model in the Polester's ever-expanding family of automobiles. It will also be Volvo's third vehicle manufactured at its new South Carolina production facility, joining the S60 sedan and the next generation XC90 SUV.
The Polester 3 will be the country's first Polester car. Polester has revealed very little information on the impending three SUVs, and the business has not stated how much they will cost. Competitors include the Jaguar I-pace and the BMW IX, which start around $71,000 and $84,000, respectively. We anticipate that the Polester 3 will be in the middle of the price range.
# 7 Lexus RZ-450E :
The RZ450E, Lexus' first all-electric vehicle, is approaching completion. The manufacturer has unveiled numerous new photos of the SUV ahead of its launch, when it is slated to compete with the Tesla Model Y and the Volkswagen 94. Because the Lexus RZ is based on the same ET NGA platform as the BZ4X, it will have the same 71.4 kilowatt hour battery pack and two motor drivetrain.
Toyota's technology produces 215 horsepower and 336 nm of torque for a zero-to-62 mph time of 7.7 seconds and an all-electric driving range of up to 280 miles. The RZ will also have direct4, a four-wheel drive system that constantly evaluates and alters the driving power to the wheels in reaction to throttle and steering inputs, as well as road conditions.
Although Lexus has not yet officially disclosed the RZ's starting price, based on its length and closeness to the company's Hybrid RX, we can expect the new model to be priced at the upper end of the company's SUV range, starting at least $50,000.
ALSO READ THIS : Top 10 Best Budget Electric Car Coming soon
# 8 Tesla Cyber Truck :
Although the Tesla Cyber Truck appears to have been brought by aliens, its technological prowess matches even the most powerful pickup trucks on the market. The body of Tesla's cyber truck will be made of scratch and dent resistant stainless steel. The cyber truck has a towing capacity of 14,000 pounds, as well as optional all-wheel drive and a driving range of more than 500 miles.
All models will come complete with a 250 kilowatt charging cable. Of course, it will have access to Tesla's huge network of superchargers. Tesla claims that a single motor can travel 250 miles or more, dual motors can travel 300 miles or more, and the top-tier tri-motor system can travel more than 500 miles on a single charge. The cyber truck will be available in three various grades depending on how many electric engines they have. The least expensive model will cost $39,000.
# 9 BMW IX-1 :
BMW plans to launch its first all-electric small SUV, the IX-1, after the larger IX-3 in 2020. It's one of 13 new affordable electric vehicle that BMW wants to release by 2025, competing with the Mercedes EQA. The BMW IX1 may be fitted with the same electric components as the larger IX-3, at least in its top-tier form, and thus powered by an 80 kilowatt-hour lithium ion battery pack, capable of traveling up to 285 kilometers on a single charge.
The BMW IX1 may also be charged using a 150 kilowatt option, which provides up to 60 miles of extra range in 10 minutes. Expect the new IX-1 to be one of the best compact electric SUVs to drive, similar to how the current X1 feels.
The BMW IX1 retains the opulent signature that all BMW cars have been known to have when it goes on sale. When the IX-1 goes on sale, it will cost at least a few thousand pounds more than the current 53,400 dollar plug-in hybrid X1 model.
# 10 Honda Prologue :
Honda is about to enter a new era of electric vehicles, and it all starts with the 2024 Honda prologue SUV, a completely affordable electric car with versatility and a driving range comparable to the company's current SUV lineup. prologue Honda will launch a new electric car for the 2024 model year as a consequence of a new partnership with General Motors. Although Honda hasn't divulged much about the car, it's expected that the concept will be a tiny to mid-size SUV.
If the prologue's 100 kilowatt-hour battery is employed, a 300-mile range is to be expected. Despite the fact that GM will design the base and powertrains, Honda will manufacture the body and interior of the Prologue. Although no specifications have been released as of this writing, the Acura luxury brand is anticipated to offer a prologue variant as well. Honda has yet to release price and trim levels for the Prologue, but we think the new car will start at $45,000 and increase from there.
# 11 Chevrolet Equinox :
The all-electric Chevrolet Equinox compact suv will replace the existing gasoline-powered variant in the fall of 2023. The first images of this new vehicle reveal its stunning style and futuristic interior, which stands in stark contrast to the cozy gas-powered equinox.
Chevrolet states that lt and RS versions will be available for purchase. The GM ultim battery will be used in the equinox EV, and that is all we know mechanically about it. Although there are no official information on the battery's capacity or estimated driving range, we assume it will need to be around 300 miles to compete in the current EV crossover market.
The Equinox affordable Electric Vehicle, in particular, has a pleasing design, with a narrow top light strip up front and two lights beneath in a closed-off configuration that resembles a grille. The wide front fenders and big rear haunches give it an athletic appearance. The steep back roofline distinguishes it from the typical crossover. According to its calculations, the initial price of the Chevrolet Equinox EV will be around $30,000.