The Subaru Solterra is an all-electric SUV that will be released in the United States in 2023. It is based on the same platform as the Subaru Cross trek and will be available in both rear-wheel drive and all-wheel drive versions. The solterra will have a range of over 200 miles and a top speed of 85 mph. It will be able to charge from 0 to 80% in under 30 minutes using a Level 3 DC fast charger.
Subaru's emphasis on "drivability" stems from their priority on safety and their ongoing efforts to reduce accidents. The company is making various strides towards the development of safer cars, and their research facility provides insight into the measures taken to enhance driving safety.
According to Subaru, mastering driving is integral to ensuring safety on the road, and the company's approach to driving safety involves a deep understanding of what points to focus on, why they are important, and how they contribute to overall safety. Subaru's third "Driving Safety Edition" offers a glimpse into the company's efforts to reduce accidents and the ways in which they are achieved.
2023 Subaru Solterra EV Travel Without Anxiety
Subaru Solterra Safety
Subaru's commitment to creating cars that are easy to control in any environment has been a focus since the early 2000s. The company has concentrated on elucidating the mechanisms of dynamic textures, including the characteristics that drivers experience, to develop vehicles that are more responsive. Subaru's dedication to ride comfort and its unique approach to human resource development through its "Subaru Driving Academy" further highlight the company's commitment to driving safety.
During the "Tech Tour Driving Safety Edition," Subaru showcased its research and experiment center in Sano City, Tochigi Prefecture, which boasts a site equivalent to 38 Tokyo Domes. The program's driving safety component began with a formation run by four Subaru Driving Academy elites on a high-speed circuit bank, showcasing the impressive skill and control of the drivers and the vehicles.
One particular focus of the tour was the Subaru "Solterra," which boasts the ability to run safely in "X-MODE," even if the tire floats. By installing independent front and rear motors, the vehicle can distribute the optimum driving force, even on rough roads. The "grip control" function maintains a constant low speed, allowing drivers to concentrate on steering without worrying about vehicle speed. The X-MODE function is also effective in preventing slipping and optimizing control in challenging off-road conditions.
Subaru's commitment to driving safety is evident in the development of their vehicles and the training of their drivers. Their emphasis on drivability is a critical component of their safety strategy, which ultimately aims to reduce accidents and protect drivers on the road.
Subaru Solterra Milage
With a range of up to 20 miles on a single charge1, the Solterra EV is ideal for quick trips or running errands. Additionally, because to its quick charging capabilities, the Solterra EV can be fully charged in as little as four hours2.
The impressive range of the Solterra EV makes it simple to travel without anxiety, whether you're traveling to work or running errands in town. And thanks to quick charging capabilities, you can swiftly refuel your car ideal for situations where you need to get back on the road right away.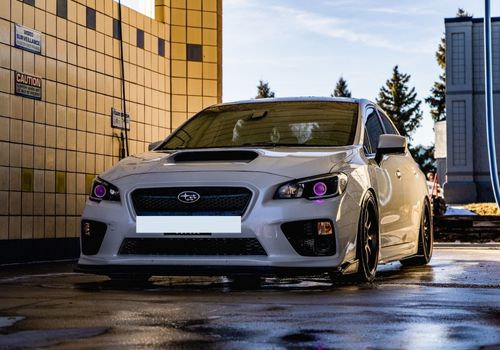 Subaru Solterra Speed
A brand-new electric vehicle (EV) that Subaru has been developing is now prepared to be made public. The Los Angeles Auto Show will host the world premiere of the 2023 Subaru Solterra EV. Subaru will be displaying an EV at this show for the first time ever.
A single charge will allow the crossover SUV Solterra EV to go more than 200 kilometers. It will come with Level 2 AC charging as standard, while Level 3 DC fast charging is an option for even faster recharge times. Like many of Subaru's other vehicles, the Solterra EV will also be available with all wheel drive.
One of the best things about the Solterra EV is its speed. It can go from 0 to 60 mph in just 5.8 seconds. That's quicker than most gas-powered cars out there. And since it's electric, there's no need to worry about emissions either. The Solterra EV is truly the best of both worlds it's quick and efficient. So if you're in the market for a new SUV, be sure to check out the 2023 Subaru Solterra EV when it debuts later this year.
Subaru Solterra Battery & Charging
The 2023 Subaru Solterra EV will feature a high-capacity battery that can be charged in just minutes using a fast-charging system. The battery will have a range of up to 300 miles on a single charge, making it ideal for long-distance travel. Additionally, a typical home charger will be provided, enabling the Solterra EV to be connected to any regular household outlet.
The quick-charge technology on the Solterra EV works with both Level 2 and Level 3 chargers, making it simple to locate a charging station wherever you are. A Level 3 charger can charge the battery from empty to 80% in under 30 minutes, whereas a Level 2 charger can charge the battery from empty to 100% in about 45 minutes. Subaru has also revealed that the Solterra EV will provide owners piece of mind with an industry-leading 8-year, 100,000-mile battery warranty.
Subaru Solterra Pricing and Trims
The Subaru Solterra EV will be available in four different trim levels when it goes on sale in the United States in 2023. The base model will be the Solterra EV Standard, which will start at $39,995. This trim will come standard with features like a 5.1-inch infotainment system, LED headlights, and 17-inch alloy wheels.
The next step up will be the Solterra EV Premium, which starts at $44,995. This trim adds features like an 8-inch infotainment system with navigation, 18-inch alloy wheels, and a hands-free power tailgate. The top of the line Solterra EV Limited will start at $49,995. This model comes standard with features like a premium audio system, 19-inch alloy wheels, and a sunroof.
Finally, there will be the Solterra EV Launch Edition. This special edition model will start at $54,995 and will come standard with all of the above plus special launch edition badging and exclusive exterior and interior colors.
ALSO READ : What Makes Electric Car A Great Buy ?
Subaru Solterra Exterior
The all-new 2023 Subaru Solterra EV is the brand's first all-electric SUV. It's based on the popular compact SUV, but with a few key differences. First and foremost, the Solterra EV is powered by two electric motors that generate a combined output of 150 kilowatts (201 horsepower).
This gives the Solterra EV instant torque and plenty of power for city driving and highway passing. The second difference is the range. While the standard Solterra has a range of up to 500 miles, the Solterra EV is estimated to have a range of up to 300 miles on a single charge.
Finally, the Solterra EV comes standard with all-wheel drive, something that's not available on the gas-powered model.
Subaru solterra Interior
As the first all-electric SUV from Subaru, the 2023 Solterra EV boasts a spacious and comfortable interior with plenty of high-tech features. The cabin is lined with premium materials and features a sleek design that's both stylish and functional.
The large touchscreen display provides easy access to all your favorite apps and functions, while the heads-up display keeps you informed of your speed and navigation without taking your eyes off the road.
You'll enjoy a smooth and quiet ride thanks to the solterra EV's electric motor, and with up to 97.4 cubic feet of cargo space, there's plenty of room for all your gear. Whether you're heading out on a long road trip or just running errands around town, the solterra EV is ready for anything.
Subaru solterra Technology
The solterra EV is Subaru's first electric vehicle, and it's a pretty impressive one at that. It has a range of over 300 miles on a single charge, and can recharge in as little as 15 minutes using a Level 3 fast charger.
The solterra EV is also packed with features, including an all-wheel drive system, adaptive cruise control, and lane keeping assist. And best of all, it's priced competitively with other electric vehicles on the market. So if you're in the market for an EV, the solterra should definitely be on your radar.
Subaru Solterra Specifications
In the US, the brand-new Subaru Solterra EV is scheduled to launch in 2023. Here is a summary of what to anticipate from this much awaited electric car.
The Solterra EV will be among the longest-range EVs available when it comes to range, with a maximum range of 310 miles on a single charge. Additionally, it will have quick-charging capabilities, with a 30-minute charge time of up to 80%.
The Solterra EV will have two distinct motor options for performance: one for city driving and one for highway driving. Together, these motors have a maximum combined output of 402 hp and 590 lb-ft of torque.
That power will be sent to all four wheels via Subaru's signature Symmetrical All-Wheel Drive system, giving the solterra EV outstanding traction and handling no matter what the conditions are like. When it comes to design, the solterra EV will be immediately recognizable as a Subaru thanks to its wide stance and prominent hexagonal grille.
However, there are plenty of new design cues that set it apart from any other Subaru model on the market today. These include slim LED headlights, a sloping roofline, and muscular rear haunches. inside, the Solterra EV will feature a spacious and modern cabin with plenty of high-tech features and amenities.
Subaru Solterra Price
The 2023 Solterra electric SUV has a manufacturer's suggested retail price (MSRP) that varies depending on the chosen trim level. The Premium trim has an MSRP of $44,995, which includes a $1,225 destination charge. The Limited trim is priced at $48,495, while the top-of-the-line Touring model is nearly $52,000, coming in at $51,995. Additionally, if you opt for the most expensive 2-tone premium paint option, it will cost an additional $890.
Subaru Solterra Range
The 2023 Subaru Solterra has an estimated driving range that varies based on the chosen trim level. The Limited and Touring trims have an estimated driving range of 222 miles, while the Premium trim is estimated to have a range of 228 miles.
Subaru Solterra Bigger than Forester ?
The Solterra is visually distinct from the Forester and boasts a sleeker design. It is 2 inches longer and 1 inch wider, with a roof that sits 4 inches lower to the ground. Additionally, its 7.3-inch longer wheelbase provides a more spacious interior compared to the Forester.
The Toyota BZ4X Vs Subaru Solterra
The Toyota BZ4X and Subaru Solterra are two highly anticipated electric SUVs set to hit the market soon. Both vehicles offer unique features and capabilities, making it difficult to determine which one is the right choice for you. Here are some key factors to consider when deciding between the Toyota BZ4X and Subaru Solterra.
Powertrain: Both the BZ4X and Solterra are electric vehicles, powered by rechargeable batteries. While specific details have not yet been released by the manufacturers, it is likely that the BZ4X will have a slightly longer range compared to the Solterra, given Toyota's experience with electric vehicles.

Off-Road Capabilities: The Subaru Solterra is built with the brand's renowned Symmetrical All-Wheel Drive system, making it an excellent choice for those who plan on doing some off-roading. On the other hand, the Toyota BZ4X is designed to handle rough terrain with its advanced all-wheel-drive system.

Interior Features: The Subaru Solterra is expected to offer a spacious, comfortable interior with advanced technology features, such as a large touch screen and a premium sound system. The Toyota BZ4X will likely offer a high-tech, minimalist interior with a focus on safety and ease of use.

Safety Features: Both the BZ4X and Solterra will offer advanced safety features, including autonomous driving capabilities and advanced crash avoidance technologies. However, the specific features and technologies will vary between the two vehicles.
Overall the right electric SUV for you will depend on your specific needs and preferences. If you're looking for a vehicle with excellent off-road capabilities and a spacious, comfortable interior, the Subaru Solterra may be the right choice. If you prioritize safety, advanced technology, and a minimalist design, the Toyota BZ4X may be the better option. Ultimately, it is best to test drive both vehicles to determine which one meets your needs and preferences best.
Subaru Solterra release date
The release date of Subaru Solterra electric SUV is in the middle of 2022. This innovative vehicle promises to bring a combination of spacious and comfortable interior, advanced technology features, and exceptional off-road capabilities to the market. 
Subaru Solterra Self Driving
The Subaru Solterra is not a fully self-driving vehicle, but it is equipped with advanced driver-assist technology. The Solterra is fitted with Subaru's EyeSight system, which includes a range of features designed to improve safety and make driving easier. The EyeSight system comes with a 360-degree camera for easier parking, a blind-spot monitor with rear cross-traffic alert, and automatic braking to help avoid collisions. In addition, the Solterra is equipped with adaptive cruise control and active lane assist, which helps keep the vehicle centered in its lane when driving on the highway. With these advanced technologies, the Solterra provides a high level of driver support, making it easier and safer to drive.
Conclusion
The new Subaru solterra EV is a versatile and stylish SUV that will be perfect for anyone looking for an electric vehicle. With its spacious interior and wide range of features, the solterra EV will be a great choice for families or anyone who needs a reliable and efficient SUV. We can't wait to see what this new addition to the Subaru lineup has in store for us!